As of this year we are officially a diaper-free household, after six years of cloth diapering three kids. I'm not going to lie, it feels amazing! By choosing cloth, our family saved thousands of dollars over the course of three kids! We also felt good about our decision, knowing that we weren't contributing to the 1-2 tons of waste that each child sends to landfills during their two years in disposable diapers.  We still used the occasional disposable diaper, mind you. But knowing that it takes 250-500 years for a diaper to decompose didn't sit well with us.
Thankfully cloth diapering has come a long way from our grandmother's day! That said, there are still challenges with cloth diapering. Cloth diapering is certainly more laborious than disposable diapers, though it becomes second-nature quickly. It's a choice I would make again in a heartbeat, but I had to get over a few personal objections at first.
Is cloth diapering gross?
Simply put, yes. But news flash: So is all diapering. There's nothing sanitary and tidy about poop, pee, and everything in between. At first I thought choosing cloth diapering was making the gross choice, but I soon realized that all diapering is gross! Breast-fed babies, formula-fed babies, babies who eat solids – none of this is enjoyable, friends.
A better question is how much more disgusting is cloth diapering than regular diapering? Minimally. A simple wet diaper is exactly the same, regardless of your diaper choice. With cloth, you only have the difference of tossing the used diaper in the laundry bin, or the garbage. Dirty diapers are slightly worse. I toss poop in the toilet for both kinds of diapers – who wants feces sitting around waiting for garbage day?, but it's essential for cloth diapering to pre-flush poop and then toss the diaper in the laundry.
Is cloth diapering complicated?
This is a fair objection, as it can be. I used bum Genius and Apple Cheeks, which are two-part diapers, including an outer layer/cover and the absorbent insert. When you are tossing your diapers into the laundry, you need to take the insert out of the cover, and likewise, after laundering, you need to put the insert in the diaper cover before using again. These steps become habit in no time, but it can seem complicated at first.
Isn't cloth diapering just as expensive?
Absolutely not. Even if you have only one child using your cloth diapers, you will save money compared to using disposables, but if you have more than one child, and can re-use all of your cloth diapers on your second child (and so on), you start to see incredible savings.
Let's say, on average, disposables cost $0.40/diaper (I'm assuming you get them on sale sometimes, too). If you average 6 diapers a day, and potty train by age 2 (and that's early!), you're spending over $1,750 on disposable diapers for one baby. Want another kid? That's over $3,500 for two kids, assuming you buy diapers on sale and that they're potty trained early. Yikes.
Cloth diapers can be an intimidating up-front cost, but once you buy a high quality, new stash, that's it. You can reuse them all the time, for many children. Plus you can find great quality diapers second hand too! They are also a great item to add to your baby registry!
FAQ
How many diapers do I need?
You can buy the Apple Cheeks full-time kit which covers everything you will need from birth to potty training, in one kit. This is definitely the simplest route.  I was alright doing laundry every other day, and found that I needed slightly fewer inserts in my diaper stash, so I recommend:
12 inserts (which you buy in a 2-pack)
No matter what brand you're using, it's nice to have at least 12 diapers so you aren't doing laundry every day.
How do I wash cloth diapers?
Every brand will have their own exact directions on washing, so be sure to check those first. In general, cloth diapers are sensitive to laundry soaps and only need a small amount of cloth-diaper-safe soap per wash. Cloth diapers are best cleaned with a lot of water and a little bit of soap.
Never dry diaper covers! They take no time to air-dry, but the dryer can damage the fabric. The inserts, however, are perfectly fine dried on high heat.
To make cleaning diapers easier, you can buy flushable liners, to catch solids, and employ the use of a diaper sprayer for washing out really messy diapers in your toilet.
Do you use cloth diapers all the time?
We used cloth diapers every day, including during naps and outings. Once our kids started sleeping 12 hours through the night, we switched to disposables at night, and we also use them when traveling. We also felt that cloth diapering was our conviction, so we didn't want to force it on others who were caring for our children, which meant babysitters, day care, and Sunday school was disposable diaper territory. The nice thing about only needing disposables the odd time is that we can wait for them to go on sale and never pay full price!
Emily is a Montreal-based writer and blogger, but most importantly, a mom of three littles (age five and under). She geeks out over cloth diapers, lattes, and will do just about anything to travel. You can find her on Instagram @emmorrice where she profusely overgrams pictures of her meals, kids and city. 
Last month we had the pleasure of hosting in-store events with Amy and Ilana, AppleCheeks' amazing founders. We held a meet and greet in each of our Ontario stores and AppleCheeks fans came out in droves, even in snow storms! It was great to meet all of you that made it out, but we did hear from so many of you around the country (and even beyond the border!) that were so disappointed to miss out on these events that were outside of your regions. We asked you what you would ask if you had the chance to meet the ladies and then took the time to sit down with Amy & Ilana to share all of your burning questions. In case you were having major FOMO, we decided to throw in another giveaway too!
You asked, Amy & Ilana Answered! 
Q: When is a good time to introduce Cloth Diapers? 
A: We recommend using cloth right from day one! With the soft and supple microfleece lining, the umbilicus will be gently protected. If a parent prefers, they can fold down the diaper under the umbilicus so that it does not come in contact until the stump falls off.  Lucky is the baby who has AppleCheeks' softness right from day one!
Q: What is your favourite diaper colour/print? 
A:  Our favourites tend to be whatever the newest release is that we have running at any given time.  We love changing things up and even squeal every time the first diapers in a new colour comes into the office for final inspection.  Even though we know what colour it will be, it is an utter delight to see it come alive!
Q: Did you ever think when you started your first line of diapers that they would be so popular and valuable? 
A: Never!  It could never cross our minds at that time. We were just trying to put together a nice selection of colours in our first run.  I guess we succeeded beyond what we understood at the time!  
Q: What inspired you to create AppleCheeks and what started your dedication to such an amazing community? 
A: We wanted to create THE BEST diapers with THE BEST customer service. It's as simple as that. As we progressed, we came to appreciate how hard all of us as parents and caregivers work, how much we sacrifice, how much we love and we saw the need for that love to be given back. Luckily we have the all-time best fans in the world so promulgating that sense of love and kindness has been a joy to be part of.
Q: Are you coming out with an all-in-one diaper?
A: We never say no to anything; we are constantly innovating.
Q: How do you put microterry inserts into size 1 diapers? the inserts are much bigger than the covers and I want to prevent leakage. 
A: You can fold over the front 2-3 inches of the insert or else you can simply extend the cover as you stuff the insert.
Q: What is the best way to store dirty diapers to prevent smell and mould? 
A: We always recommend using the AppleCheeks flushable liners or the new AppleCheeks fleece liners to dispose of waste and then store your diapers in an AppleCheeks storage sac, tightly closed, for up to 3 or 4 days until wash.  The odour will escape when you open the sac to put another diaper in but otherwise any odours will be nicely contained.  Not adding extra water through rinsing will help avoid mould.
Snuggle Bugz and AppleCheeks want to add to your collection, or help to get you addicted started if you are a new AppleCheeks fan! Log in to the rafflecopter below and answer the question in the blog comments to be entered to win an AppleCheeks prize pack! Contest ends Tuesday, February 9th at 11:59PM EST. Contest Rules and Regulations
a Rafflecopter giveaway

There once was a time where I thought cloth diapers went out of 'style' (use) in the 80s. Like when my mom used them on me. This is me a couple of years ago: anytime I have ever seen a baby in a diaper, ever, that I remember, it's been a disposable one. Then my friends were drinking the baby Kool Aid and all of a sudden tons of them were pregnant. One mom specifically requested gift certificates to a small local baby boutique. When I inquired why so specific, she said she was going to cloth diaper. I was so surprised that I didn't even know what to say next. But I did it, I got her the gift certificate, and then I never heard any more about it. And then I started working at Snuggle Bugz. One of the first projects on my plate was a contest for a diaper cake made out of $1000 of AppleCheeks diapers. It would then take an entire year for me to know EXACTLY HOW BIG OF A DEAL THAT WAS. Anyway, I started to realize that this cloth diapering was NOT my mother's cloth diapering. No plastic pants or pins here, folks! And so we're going to do it – we're going to cloth diaper, which is something I NEVER thought I would say, and here are the things that convinced me.
The Waste
We spend so much of our time and energy recycling and composting things, but then when it comes to diapers, many families treat the thousands of disposable diapers that your baby will use as a necessary evil. I'm so glad Snuggle Bugz helped me realize that isn't true. I've seen so many recycle-happy families use disposables because that's just what you do and they didn't really think there was another option. Disposable diapers are responsible for 3% of all (all!) waste in Canada. If I wasn't on board before, this would have swayed me in that direction:
Also, in my city you get ONE bag of garbage per week. You can't put diapers in the green bin (I checked – you can do that some places) and it takes them hundreds of years to break down (seriously).  You can jump through a hoop or two and get some "exception" stickers to put on extra bags of garbage but I'm not really interested in that. I'd rather just reduce the waste altogether.
Also, we're all like falling all over ourselves to wash out our cans and jars and yogurt containers and then contribute a pile like this of diapers without even a hesitation. Just because many people don't know better.
The Cost
You can see in the graphic that they have costs there, and you'll see the cost comparison everywhere, all stating slightly different numbers. The cost that is generally shown is for one child, in diapers for 2.5 years. I'll give you my own costs here with actual dollar amounts from actual stores. Using the graphic as a reference, 3,800 diapers (give or take) are used on one child in a year. On average. So if I go down the street to El Wal Marto, and get the ECONO PACK of diapers, it will cost me $49.97 for 222 diapers (varies by size). Accounting for 3,800 per year, that's costing us $855.34 per year. We'll say Junior is half potty trained at 2.5, we're looking at $2138 total and then an additional $200 for night time and nap time diapers to last until full potty training. So I'm looking at $2338.00 for our first child, one assumes double that and add a bit for inflation for our second child, and we're running up a $5,000 bill, assuming of course that we don't have more than two. I realize that's dished out over a long time and in small, manageable pieces, but I'm looking at the big picture here. We don't make tons of money so a long term cost like that is really startling to me. If we use cloth diapers, I'm going to say AppleCheeks, we can buy a Full Time Kit for $849.99 which contains everything we need to get off the ground running. I'll factor in an extra $500 over the time of your first child for updates on colours and additions to your cloth diaper collection (depending on when you want to do laundry), and it's a savings from just one child of $988, double that for the second one. I have friends who have used AppleCheeks on going on 4 kids and they're still going strong.
But what about the laundry cost? And the time? Well that's certainly something to take into account. According to this calculator, to wash a load of laundry for 2 hours at off-peak times will cost me $0.07. Washing (exclusively diapers) every three days will cost me $8.50 a year. Let's say I do ALL of my washing at peak times, even then I'm looking at $17 per year for electricity, then added in the cost of water, let's say that it costs me an extra $50 per year, that's still only $67.
Ok, so the cost thing is settled in my mind.
The Look
Totally vain on my part, but they're awfully darn cute. Who needs those little diaper covers that come with girls dresses and whatnot when you can just have their ACTUAL diaper showing?
The Community
This was strange to me at first when I happened upon the MASSIVE cloth diapering community that is out there, but now it's a regular part of my day. Specifically, if you search your fave cloth diaper brand on Facebook, there are pages and groups full of parents (generally moms) who are not only using the same brand as you, but who also are interested in the same types of things. It's a great way to meet others online who you can get advice from on things other than just cloth diapering.
But most of all I just think that cloth is "for us."
Oh, and you want to know what brand we'll be using? Well we'll be using AppleCheeks of course
What about you? Do you use cloth/have you tried it and decided against it? Comment and let me know!
This post may be a bit late in the season, but I needed to take a moment to rave about AppleCheeks Swim Diapers!
This season, we discovered that our two year old is a pool pooper. No word of a lie, the minute she starts swimming, she poops! So the hunt for the perfect swim diaper began… because no one wants to be the parent whose kid poops in the pool!
We cloth diaper our daughter with AppleCheeks (they make up our entire
stash!), so I figured starting with their swim diapers made the most sense. The AppleCheeks swim diapers are the same size as their cloth diapers, but they are made of different material. The inside of the swim diaper is made of a soft mesh, which allows for the water to pass through while the elastics around the waist and legs work to keep the solids out of the pool.
We were pleasantly surprised when she went for her first swim in the diaper (cue mid-swim poo) and it contained everything! I was a bit concerned at the start because the diaper seemed a bit baggy in the bum area (but fit in the legs and waist) but I figured considering the swim diaper is the same size as the cloth diaper, not stuffing the swim diaper accounts for the extra space. Bagginess aside, the elastics around the legs and waist did their job and contained the mess.
Another plus to AppleCheeks products… they are made in Canada! Not only do the swim diapers fit well and do the job they were created to do, they are 100% Canadian. That is a HUGE plus in my books!
Do you use AppleCheeks or have any advice re: swim diapers to share? Leave me a comment below!
Have you thought about cloth diapering your little one?
Modern day cloth diapers are light years away from the ones your mom or grandma used. Today the options for cloth diapers range from updated versions of the pinned cloths, to revolutionary pocket style ones.
I know from personal experience, that when I mention that I cloth diaper and love it, people tend to look at me in horror, or assume I am some sort of throw-back hippie. I attribute the amazing, hard working and visionary companies, such as AppleCheeks, BumGenius and GroVia, for making the switch to cloth diapers easy and relatively pain-free.
Proof that cloth diapers are here to stay? Celebrities are even making the switch, and some are very vocal about their love of them. Sure, some of them may have the help of a nanny or two, but most have taken a hands on approach to it as well.
It was eye opening to me to read the list of stars who are (or were) using cloth diapers:
Alyssa Milano
Bethenny Frankel
Brad Paisley
Tori Spelling
John Travolta and Kelly Preston
Melissa Joan Hart
Mariska Hargitay
Matt Damon
Brooke Shields
Denise Richards
Julia Roberts
Marcia Cross
Alyson Hannigan
Heidi Klum
Sarah Jessica Parker
Matthew McConaughey
Angela Bassett
David Matthews
Jamie Presley
P-Ddiddy
Madonna
Sheryl Crow
Maggie Gyllenhal,
The crocodile hunter!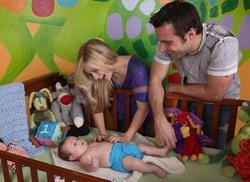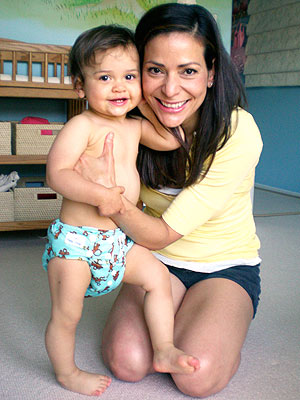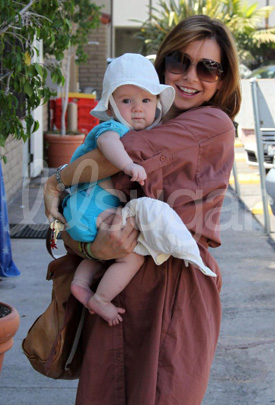 Now, if the idea of cloth diapers, part time OR full time, is definitely not for you, there are some really great earth-friendly disposable options out there. We have recently begun to carry the Naty Diapers and Seventh Generation Diapers, which also earn rave reviews from the following celebrities:
Posts You Might Like
Archives